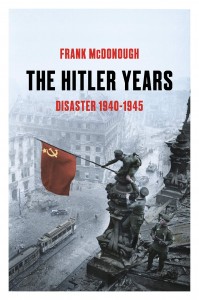 At the beginning of 1940 Germany was at the pinnacle of its power. By May 1945, Hitler was dead and Germany had suffered a disastrous defeat.
Hitler had failed to achieve his aim of making Germany a super power and had left its people to cope with the endless shame of the Holocaust.
In The Hitler Years – Disaster 1940-1945, Professor Frank McDonough charts the dramatic change of fortune for the Third Reich and challenges long-held accounts of the Holocaust and Germany's ultimate defeat.
Despite Hitler's grand ambitions and the successful early stages of the Third Reich's advances into Europe, Frank McDonough argues that Germany was only ever a middle-ranking power and never truly stood a chance against the combined forces of the Allies.
See volume 1: The Hitler Years ~ Triumph 1933-1939
See also: The Hitler Years